Ohhhh friends.
It was so much fun working on this new construction project with M&S Resources and Craig Evans of Crown Real Estate Group. From the beginning, these guys let me dream about shiplap, barn doors, subway tile and modern farmhouse charm. Yesterday, we hosted an open house to showcase the finished product…and if you didn't make it out, I thought it would be fun to share some pics! Sound good?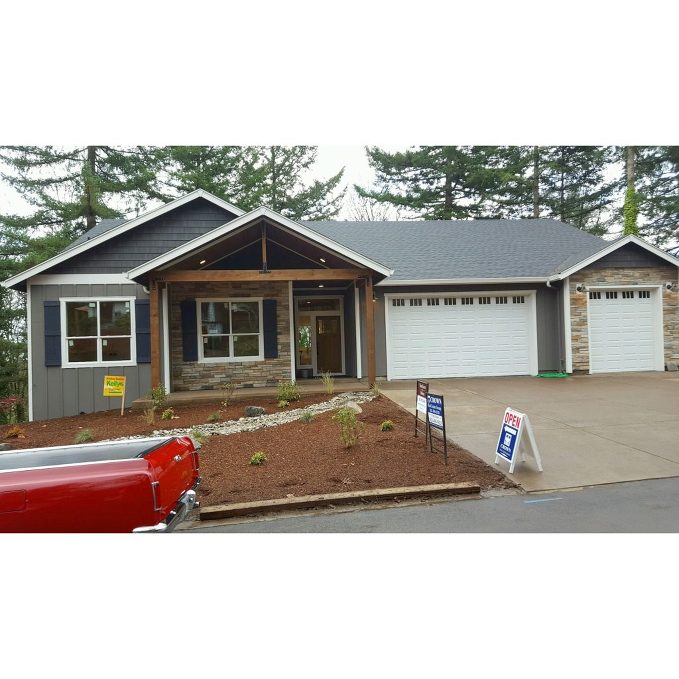 This house is unique, as you enter on the main level, and there's another entire house downstairs in the daylight basement…perfect for dual living! People were surprised to find out how spacious it is, since it doesn't look that big from the street (the house is over 4200 sq ft).
Ok, come on in!
This fun shiplap wall is the first thing you see when you enter…setting the stage for our shiplap touches throughout. And OF COURSE, a darling sign, painted by my sis, Julie at Signs of Serendipity! 🙂 The beautiful furniture used throughout is from Ashley Furniture here in Salem, Oregon…and boy, the furniture really made the house come alive! So cozy!
Ok, see that little hallway to the left? Let's turn there.
The first room to the right in this hall is the powder bath…shiplapped on all 4 walls. Hello, glorious powder bath. I love you.
To the left are 2 bedrooms, and straight ahead is this hall bath, or as I like to call it, the kid's bath. Shiplap makes another appearance on the feature wall behind the sinks, painted Sherwin Williams "Snowbound." The mirrors are AMAZING…they look like reclaimed wood, and you won't believe where I found them! HOME DEPOT! My heart skipped a beat when I spotted them. The blue cabinets are so pretty next to the black & white floors, and in case you were wondering, they're painted Sherwin Williams "Waterloo."
Down another hall to the right is the master suite. The pics just don't do it justice…the view outside is just stunning, and it literally feels like you're standing in a tree house. What a perfect retreat!
Ok, and now…one of my favorite things about the house. The. Master. Bath. Ready? No, wait. Let's just take a minute and enjoy the barn doors. Ok. Now we're ready.
The shiplap. The tub. The view. How in the world can we focus on one thing in here? I need that tub in my life. Like yesterday. And I'm not even a bath girl.
If you're more of a shower-taker, just look at this huge walk-in shower…with, wait for it…wood-grain tile set in a herringbone pattern. I die.
This shower makes me happy I'm not a tile setter. God bless our talented tile-master, Julio. And yes, I know I owe you about 46 dozen donuts, Julio. Thank you for giving a week of your life for this shower! 😉
Just one more peek into the master bedroom, from the bathroom. 🙂
Ok, now into the heart of the home! The living room/kitchen area! Guys. The open concept here is just soooo much fun. Talk about a great place to entertain! And hi, are you noticing the darling accessories? These are from Real Deals in Salem, Oregon. So much to discuss in here, really. The beams, the stone fireplace, the shiplap, the lighting, the pretty furniture, the floors, the view…it all works together to make one big welcoming space.
And from this side of the kitchen, we can see the double pantry, complete with barn doors and chalk board wall. Oh man, I want to stay for dinner. I mean, I don't even cook but I bet it would taste good if it was made in THIS KITCHEN. Wanna see it?
Oh hi there, glorious white kitchen. I adore your oversize white subway tile, your quartz counter tops, your beautiful appliances, and your fun island pendants.
Aaaaand you know me. An island vignette was definitely happening here. P.S. Can you even believe the view outside? Just gorgeous green trees and a view of downtown Salem…STOP IT RIGHT NOW. So good. Right behind me is THIS: (just to give you a point of reference)…the view back out to the entry. And why yes, that entry bench IS SHIPLAPPED to the nines! 😉
Downstairs there's another kitchen, living/dining area, 3 bedrooms, 2 baths, a second laundry room, and a theater room. YES PLEASE.
This kitchen. SO CUTE!
Well? What did you think? Thanks for stopping by, touring the house, and hanging out with me for awhile!