We were ready. Our bedding was old, worn-out, and let's face it, our sweet puppy has had a few "incidents" on it, God love her. (Ok, more than a few. But she's no spring chicken, and we love her anyway.) Our old bed was a pretty inexpensive option, back in the day. I've been looking forward to upgrading for quite some time. And a rug. Oh, I've always wanted an area rug in our master bedroom. Soooo, you can imagine my delight when Birch Lane said they'd like to work with us on our master bedroom mini-makeover!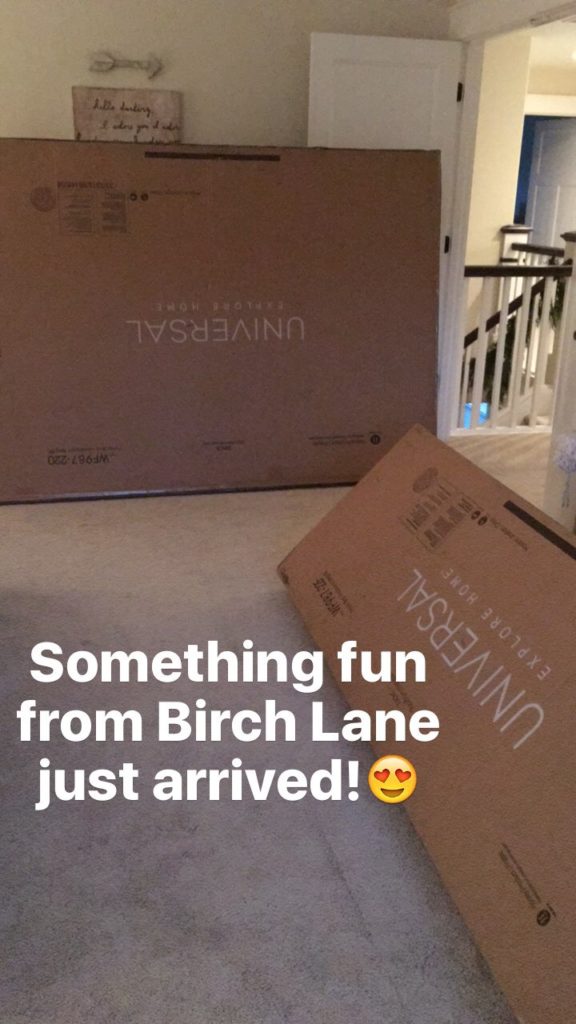 Last night, the final piece of the puzzle arrived (the bed)…so it was makeover time! Just in case you forgot what our room looked like "before"…here's a reminder. It was great, and we loved it, but just ready for a little refresh.
Ok. Ready for the "after?" I'm so excited to show you! I literally felt like I was sleeping in a beautiful hotel last night…
Let's break it down and talk about each piece, because OH MY. I am so impressed by the quality of these Birch Lane items!
The bed, which you can find here, was so easy to assemble, and is made of real wood, which I adore. The inset fabric panels are the perfect neutral, and add some softness to the room. The headboard goes a little higher than our old bed, which gives it more presence, if that makes sense. Heart. eyes. all. day.
Can we TALK about this rug? As a designer, I've seen a lot of rugs. I've unrolled a lot of rugs. I have NEVER seen a rug lay so beautifully immediately after being unrolled. This. Rug. Rules. And wanna know a secret? The original rug I chose was out of stock, so I had to make another selection…and boy am I GLAD!!! This is an 8×10, and it works perfectly with our king size bed. You can find it here.
Aaaand the bench. I decided on a darker bench, to contrast all of the lightness going on in here. The wood grain on the legs is gorgeous, and I am LOVING the color! As you probably know, I'm a light-and-bright girl, but this bench grounds the look. You can find it here.
I fell in love with the bedding as soon as I saw it. Tiny black polka dots with ruffle detail? Yes, please! I had already purchased the bedding (from Wayfair), but you can find it here! The red plaid pillows & cream throw are from TJ Maxx, and the "blessed" pillow completes the look (find it here).
See the adorable little sign on the nightstand? It was made by the very talented Jillian Comeau (@houseofboysandbeauty on Instagram). We've had the lamps for quite some time, and I love how they look with our new items (available at Target). 


Are you due for a little master bedroom refresh? Here are some things to keep in mind!
1. If you're like me and neutral is your THING, lean on textures and patterns to provide interest. When mixing patterns, try 1 small pattern (the duvet cover here), 1 medium pattern (red check pillows here), and 1 large pattern (the area rug here).
2. An area rug is always nice. Even if your room is carpeted (as mine is), a rug is a great way to inject additional pattern & texture, it's an extra cozy feeling underfoot, and let's face it, it's just PRETTY!
3. Treat yourself to some new lamps for your nightstands. Switching out lighting is a super inexpensive way to update your look!
Thanks so much for popping by to see the mini-makeover! If you need me, I'll be IN MY ROOM! 🙂