It's our first fall on the farm!!! As I type those words I still can't believe we're here. Ladies & Gentleman, it's been a journey. And today it's all-kindsa-fun to share our fall porch with YOU! Plus, I'm joining a bunch of sweet friends on a fall blog hop. You'll find the links to their amazing blogs at the end of this post, and let me assure you, YOU WON'T WANT TO MISS THEM. These girls are incredible.
A successful porch-decorating session should start with planning, right? Oops. Guess I'm not doing it right then. 😉 I'm not much of a planner, but I do have overall goals for the outcome. This year I felt a bit overwhelmed. One of my favorite things about this place is that we have TWO porches to decorate, and since porch-decor is my FAVORITE, you'd think that would be a good thing?? But still. Could I do it justice?
Back to the goals. All I knew is that I was after 3 qualities: I wanted it to feel inviting, cheerful, and NOT like an explosion of the craft store on my porch. Ha, ha! My favorite place to start, as always, is at a local pumpkin farm. I mean, the experience itself is half the fun!
This year, Lindsay Heiser, of Heiser Farms, invited my friend Anne (of Pedal Home Interiors) and me out to her farm to pick ALL the things! We grabbed our hubbies and headed out to their beautiful place…and oh my, WHAT A TREAT!
(Here I am with Anne & Lindsay…we had a wild ride!)
Lindsay took us for a crazy ride through the corn maze (and we got lost, but she won't admit it! hahaha), and then out to pick corn stalks, and all kinds of BEAUTIFUL pumpkins! I was in hog heaven. Every minute of it.
We thanked Lindsay and were on our way. Once we arrived home, Ryan & I unloaded the truck onto the back porch, and there it sat, in all of its glory! I mean, how can you go wrong with such pretty things from nature?!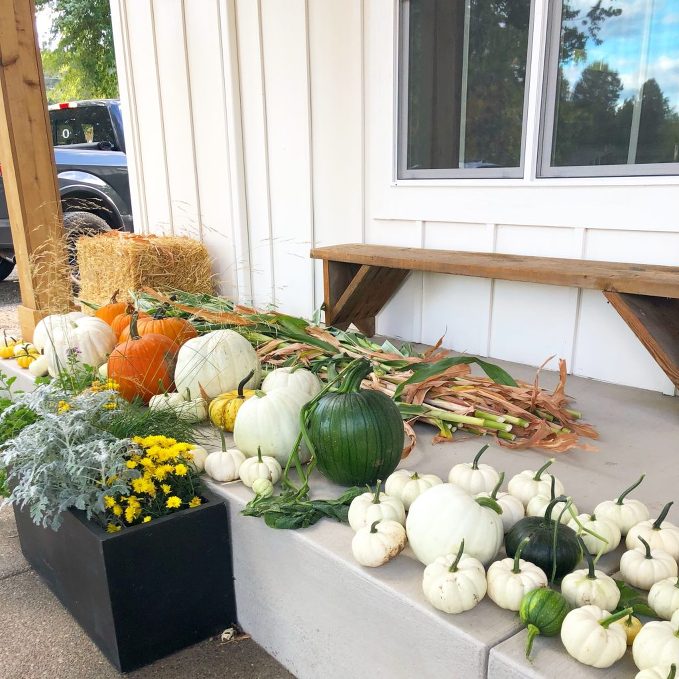 This year I started with the front porch, since it's smaller. It seemed less daunting to tackle. 😉
All of my go-to fall basics are here…pumpkins, corn stalks, a straw bale, mums, and a few cozy comfort items! In case you're wondering about the less-glamorous part of farm life (critters & creatures), I sprayed the straw & corn stalks with some peppermint oil to discourage mice, and *knock on wood*, we haven't had an issue. These items have been out there for almost a month, and everything is still intact! 🙂
The cozy throw is a vintage find from a few years ago (it usually makes an appearance on our fall porch every year!), the orange pillow is one that I stenciled myself, and you can find the "harvest blessings" pillow here.
On to the back porch!
Once I got started it was nothing but fun. Adding all of these brilliant fall colors to the back porch gave me a whole new love for our home!
HOWEVER. I needed some kind of a focal point/statement piece. I went through our storage area looking for the perfect thing, and nothing was ringing that bell, friends. WHY ME WHY ME WHY DON'T I HAVE THE PERFECT STATEMENT PIECE??????? Ha, ha!  Sounds silly, but I was actually mad at myself for not planning this out better.
AND THEN. Ahhh ha!!! Wait a second! Lightbulb moment.
I had ordered this black & white "background" sign from my girls at Details 2 Enjoy (meant for INSIDE). WHAT IF I used it to back a "fallish" word and become the focal point? The more I thought about it, the more I hurried to grab my keys and run to the craft store to find the word ("harvest" is from Michael's, and I just slapped some golden yellow craft paint on it!). Badda bing…problem solved.
Gahhhhh….yes. Popping off the white house? Yes. I love it when an idea "locks in" and it turns out how you'd hoped!
This leads me to a question I've heard a few times this year. "Is your porch visible from the road? Why would you go to all this trouble?"
Answer: Nope. The porch decorating…or inviting/cheerful/welcoming look I'm hoping to create isn't for the people driving past the farm, on a country road at 50 mph. It's for MY OWN FAMILY, loved ones, and cherished friends who come to visit. That's what really matters, isn't it? Our porches are the first impression people have when they arrive at our homes. It's a worthy place to receive a little attention. 🙂
A few impactful pillows dressed up our old wood bench. You can find the mustard plaid one here, and the "harvest + blessings" pillow here!
I guess the BEST part about porch-decorating is this: It's YOUR porch. YOU get to decide the feel you're after, the first impression you want to give, and how you want to show YOUR personality out there. Take a look around your garage, your basement, or the back of that one closet. You might have something just waiting to be featured this autumn!
And just for fun, a few pumpkins made it out to our little gazebo, because HEY. Our guests see THAT before they even see the porch! 🙂
It's been so much fun having you here on the farm today. And NOW, I can't wait for you to visit with my friends! Don't miss out on a single one!
Gratefully Vintage ¦ Pine & Prospect Home ¦ The Picket Fences ¦ Julie Warnock Interiors ¦ Little Vintage Nest
Proverbs 31 Girl ¦ Mindfully Gray ¦ Joyfully Rooted ¦ Yellow Prairie Interiors
Our Signature Swag ¦ Texas Sized Home
Another HUGE thank you to Lindsay at Heiser Farms for a wonderful farm-fresh experience!