Friends! Long time, no talk! 😉 I must say, this renovation, along with our day jobs, has had us completely consumed. Hopefully you've been able to follow along with the renovation via Instagram…we've been posting almost-daily updates in our Insta-stories, and it's been so much fun to share it with you! (If you've missed them, you can see some highlights here! Hint: look for the yellow circles.)
Let's catch up! We've shared the demo process here on the blog (you can find it here!), but now let's talk about what's been happening since then…the joy-filled process of rebuilding this old beauty. Gosh, and we thought demo was fun!
I still remember the moment we decided to step out of our comfort zones and trust God. We had absolutely and completely fallen in love with this home, and the 6 acres surrounding it. But….what IF??? What if this was a money pit? What if there were some major things wrong? I mean, this house was built in 1890! Who would do the work? Where do you even begin on something like this? Amidst the swirling questions and concerns in our heads, my hubby and I both had a feeling that THIS WAS IT. Home.
You know the feeling when a puzzle piece fits into place? How you can almost hear it "click" in? That's what we felt in our hearts.
AND NOW…the truly exciting part of the journey, putting this house back together…to be our home for years to come. Wait. Let's back up for one second…TO BE OUR HOME. OUR HOME. Still pinching ourselves over here. 🙂
 Having an amazing builder on board, Fridley Custom Homes, we were ready to start this part of our adventure! Framing happened first…pictured above is the pantry. This is where the former 60's kitchen once was…it was tiny! We are still trying to figure out where the original kitchen may have been, but that was gone long before we purchased the home.
Most of the framing needed happened in the 1960's addition. There were hardly any changes to the 1890 original part of the house…whoever built this place chose a beautiful layout that is still functional today.
(Above) Our builder, Nolan, and I are discussing plans for the sliding pantry door.
The roof just above the entry was modified during framing. The original house had a flat decorative roof in this spot…which is tough in Oregon. We get a TON of rain, and our inspector suggested we address this area. Leaky roofs are not fun!
I love this shot…it was such to treat to see inside these beautiful old walls. Notice the glimpse of the office ceiling at the very top of this pic (above)…we've decided to leave it exposed & original…too pretty to cover!
Next up was electrical. You'll notice all of the original lath & plaster was removed, which is not an easy process, and definitely not preferable. BUT, the wiring had to be completely updated for safety, and in some areas there was literally a breeze blowing through the house, so we knew good insulation would be imperative.
Just before the next step, we gathered as a family at the house to pray for our new season and write some scripture verses in the walls. Such a special day!
While work was happening at the house, I was busy with surface selections. One of the MOST FUN field trips was to Pratt & Larsen, a local tile company. We had the BEST time selecting a hand-made tile backsplash for the kitchen…something that would be truly unique for our much-loved old home. Stay tuned for our selection, later in this post!! 🙂
AND THEN. Game-changer. The day the windows arrived was surprisingly the MOST exciting day to this point. This was really the first big change & step forward, and boy was it a pretty one. 🙂 All of the original windows were saved, and some will even be incorporated later in a fun way, but the new windows will keep our family warm in the winter, they OPEN to allow for fresh air (the old windows were painted shut), and they allow us to enjoy our beautiful surroundings here on the farm. (Umm, do you detect my defensiveness here? ha ha…we've received a few notes from people who were very bothered that the windows were replaced. To each their own, right?) We selected a classic single mullion pattern to honor the history of our home.
Once we were "dried-in" with new windows, new insulation was added. This step was SHOCKINGLY wonderful! The house instantly became more quiet, warm, and we were well on our way to a cozy house for our family.
Hello, sheetrock!! This was a super exciting day (Uhh, seems like I say that EVERY day around here!). But wow, the impact! We have real walls again!!!
The sheetrock also provided a light, airy feel to the house…which was a fun change after looking at bare wood for so long!
During the demo process, the original chimney was discovered in the upstairs hall…there was NO WAY we were gonna cover that up again! I love the warmth and history it adds to this little area.
While things were rolling along inside, new siding was added to the exterior. The original siding remains underneath, so this is an added layer of protection from the elements. No more breezes blowing through the living room! 😉
Special care was taken to preserve the original corbels in the eaves…extra time for sure, but well worth it! The porch posts are completely rotted, so new posts will be added soon. Hey, those posts held the house up for a long time!
Gah! Doesn't she look happy with her new siding? This old girl has a whole new lease on life. Hopefully now she will stand for at least another 128 years.
Before we knew it, cabinets were arriving. These custom-designed cabinets, from Parkwood Design here in Salem, Oregon, REALLY made this place feel homey! We chose a classic shaker style cabinet, and decided to do a stained island, for that feeling of warmth & welcome. The former kitchen was very 60's, with green cabinets and funky vinyl floors, but I love that each family has put their own stamp on the house. We are so grateful to be the next in line!
We opted for butcher block countertops in the laundry room, for a classic feel. The warmth of the wood really softens all of the white!
The countertops arrived earlier than I was expecting…and what an exciting day that was! We chose Pental quartz, and the color is "Carrara." We were thrilled with the helpful folks and installers from Bella Pietra Marble & Granite! The gray-ish white finish with slight veining is so pretty against the bright white cabinets. The farm sink is something I've always dreamt of, and I love the way it looks in our kitchen! You can find the sink here.
Excuse the dirty/dusty counters (hello, construction zone!), but I have a feeling we won't mind doing dishes here!
Our interior paint color selection wasn't as quick as I had imagined it would be. 😉 We had actually used a favorite color in our last 2 houses….yes, it was THAT much of a favorite! (Valspar "Coconut Milk, if you're curious!) However, this time I figured it was time for something different. Folks, we're going white. WHAT????? WE ARE??? I know. I thought that was pretty radical too. 😉 We settled on Sherwin Williams "Alabaster" for the walls in a satin finish, and the trim will be the same, but in a semi-gloss finish. Our interior doors will be Sherwin Williams "Amazing Gray", and I'm pretty excited about it! Classic, clean, and perfect for our old farmhouse! (Both of these colors are shown above.)
Next, the finish carpenters showed up, and started on trim, including the board & batten shown here (above), in the living room. It will all get painted out white and OH HOW I CAN'T WAIT TO SHOW YOU THAT. This type of treatment adds texture & interest, and felt totally classic for this house. These types of trims can get pricey, so we sprinkled them around the house in key locations, where they would make the biggest impact.
Ok, so I couldn't wait any longer! Here's that same wall, now with primer. Paint should happen this week, but I'm in LOVE already!
The stairwell was a whole lotta wall space, and not much else to see. We added this pretty little high window, and lots of shiplap for texture. I often get questions about shiplap…."Do you think it's a fad? Don't you think it's going out of style?" I guess it depends on your home, and your setting. During demo we uncovered some beautiful old shiplap in this house. If it was good enough for the Oregon Trail pioneers who built this place, it's good enough for us!
One early sunny morning, we happily headed up to Portland to pick up our hand-made tile backsplash from Pratt & Larsen. (above) I can't get over the gorgeous detail of each hand-glazed piece! Want to see how it looks in the kitchen? (below)
Ohhhhh my stars. It's SO pretty. It hasn't been grouted yet, but I couldn't wait to show you!
We chose a coordinating hand-made 3×6 subway tile for the rest of the kitchen, also from Pratt & Larsen. Classic & simple, the theme of this renovation. We chose to take the tile all the way up to the ceiling, since there's hardly any wall space in this kitchen. More tile? YES PLEASE. I can hardly wait for grout!
The range hood still waits to be completed. We're thinking stucco, with a wood trim. Wait til you see what we hope to use for that! (think "original" details!)
(above) We selected a classic marble basketweave tile for the master bath floor, also not grouted yet. So perfect for this house!
When we bought the place, the back porch entrance had definitely been updated somewhere along the line, but we really wanted a more old-school back porch feel. After changing out the windows and siding on the 1960's addition to blend better with the original house, we decided on a concrete porch, which will most likely be faced with brick (still making decisions). This new porch will be sweet & simple, much more in keeping with our country setting.
This fireplace in my office was such a treasure to uncover! It had been covered in blue wallpaper (probably part of the 1960's renovation), and was the original heart of the home. Now that it has been cleaned up, I. LOVE. IT. And I look forward to staring at it with heart eyes for many years to come. So imperfect. Just the way I like it!
The most recent development around here is some freshly primed walls. WHO KNEW you could actually fall in LOVE with primed walls? I love thinking about how many sweet families have walked up and down these original stairs. How many babies were born here? What were the families like? I do know that the last family to own this place was here 50 years. I love that. It's obvious they loved this property well. They added on to the house during their time here, and made their own upgrades & design decisions. And now, we get to be part of the story. And we'll do our very best to take care of this happy home on the hill.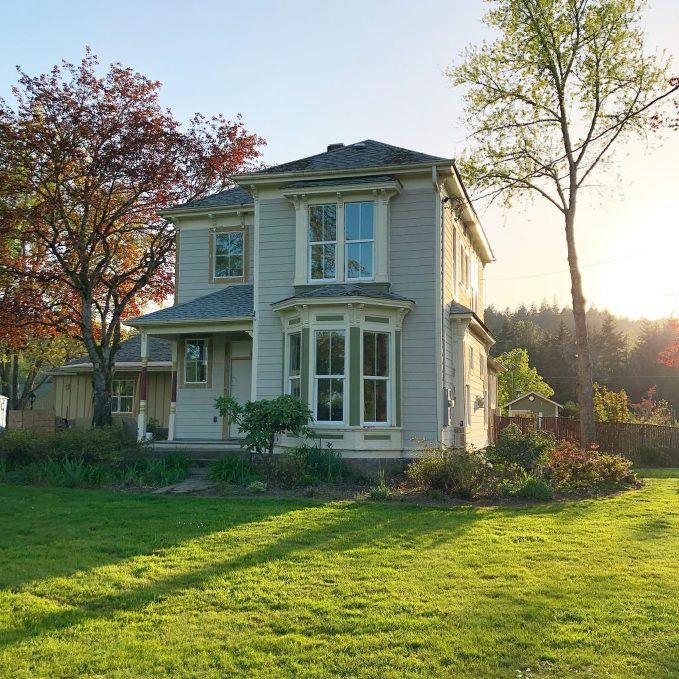 So what's up next for our #renovationontheprairie? Well, paint is happening this week (interior) and I believe exterior paint will follow closely after that! We can't wait to reveal our exterior paint color, and we hope you'll love it as much as we do. We hope to be moving in within the next month…so that means some beautiful finishes are on their way too…flooring, stone, lighting, all kinds of things! Be sure to watch our Instastories for real-time updates, and of course follow along here for all the details. We LOVE having you with us for the adventure!