This post sponsored by STAINMASTER®. All opinions are my own. 
Affiliate links may be included in this post.
Do YOU have a messy, disorganized spot in your house that you walk past every day and it makes you feel AWFUL?? (Please say yes. PLEASE.) One little corner of our laundry room has always been a problem area for us. You've never seen it because I WOULD NEVER SHOW IT TO YOU. 😉 I'd rather share the finished, fun views like this:
Oh, but if you could see behind me. I mean, it's not horrific, but it's soooo not cute. Here's a peek:
This is the cleaned-up version. Ryan's golf clubs are usually sitting here as well (we don't have a garage), and it has become a tripping hazard! I walk past this area more than any other area of our home, but because it's not shared in the public eye, it never gets addressed. This week I decided it was time to FLIP THE SCRIPT and create a darling little corner that makes me happy!
Here's the design plan:
-Must be cute.
-Must be organized.
-Daring to be different.
-An "Anthropologie" type feel…vintage-ish with modern touches.
Before we get started, let's talk about what IS working in our laundry room:
From this angle, you can see NONE of the mess (which is why I share it! haha) and you can see my very FAVORITE thing about this much-used room. The flooring! This STAINMASTER® luxury vinyl (find it here) has proven to be the BEST decision over and over. Water-proof, slip-resistant, and the perfect "concrete" look that hides dirt, dog hair, and who knows what else…a design decision that we are SO PLEASED with, even 2 years later! Since we love the flooring, it played a big role in choosing the color for our messy corner update. Ready to see?
"WHAT THE HECK?" (I know that's what you're thinking. Ha,ha) So we kicked things off with a beautiful green (Sherwin Williams "Inland"), reminiscent of a green chalkboard. I've always wanted to try a green chalkboard wall, with a wash over it to give it a "freshly erased" look…this was the perfect opportunity! Most of the laundry room is white shiplap, so a little green accent wall sounded fun.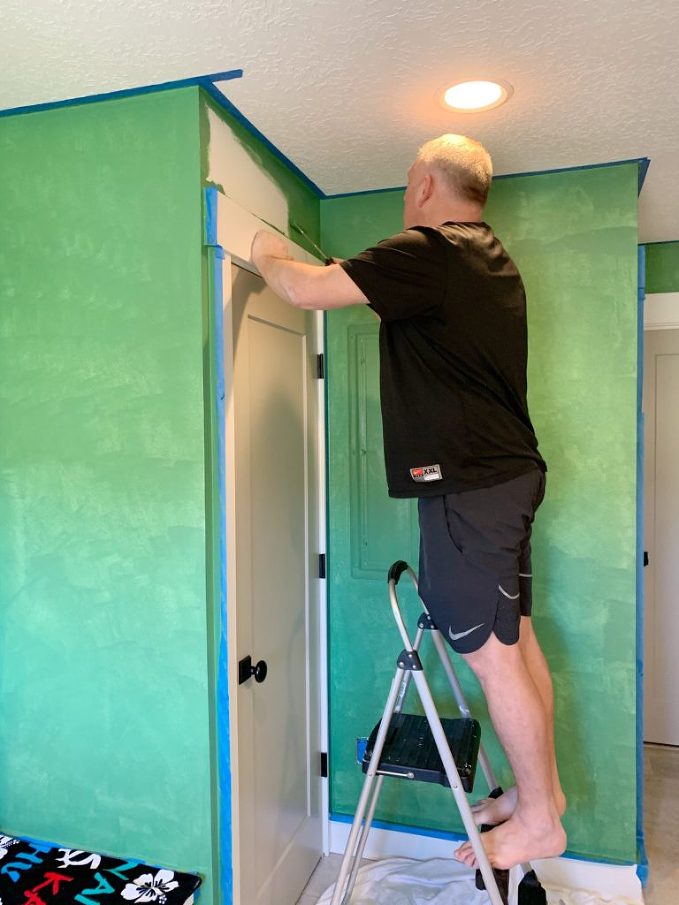 I'll admit. At this point I was a little scared. But that's usually a sign that I'm gonna LOVE IT. No risk, no reward, right?
You might notice we opted to paint right over the ugly electrical box. I felt a little wild doing something like that (I don't get out much, haha) but HEY, we are LIVING ON THE EDGE OVER HERE! After 3 coats of our "Inland" green, it was time to move on to the next exciting step…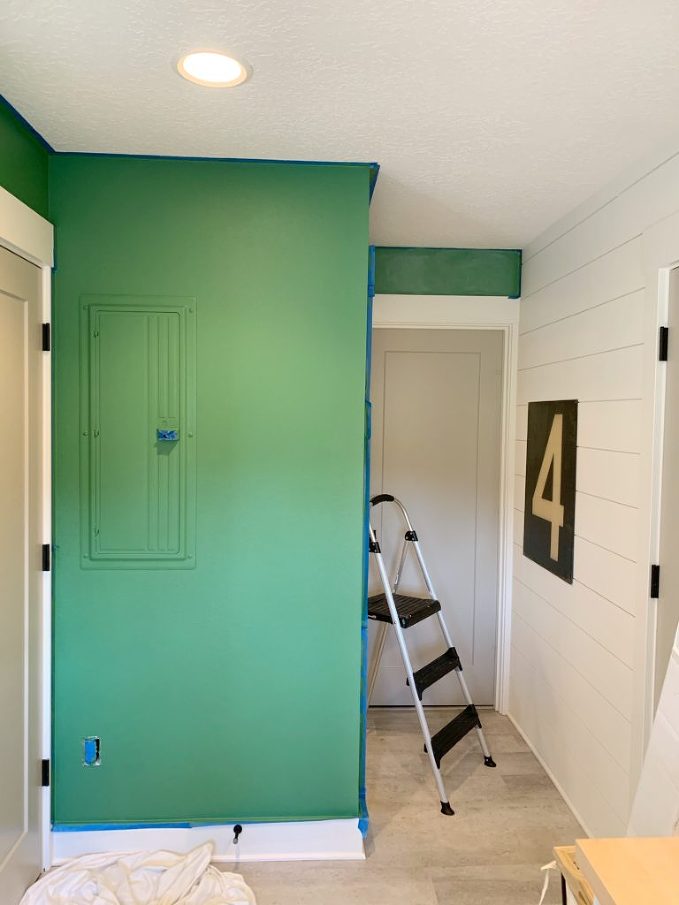 Who on earth rubs an old t-shirt dipped in watered down white chalk paint all over their freshly painted walls?
THIS GIRL.
Yesssss. It's completely uneven and completely out of the box. But it's also artistic, creative, and exactly the look I was going for! A freshly-erased chalkboard. A backdrop for the next step. But first, I'll tell you my very fly-by-the-seat-of-my-pants process:
I used Magnolia white chalk paint, poured a little in a cup and watered it waaaaaaay down (approx. 1 part paint to 4 parts water), dipped an old t-shirt into the mixture, and wiped it on the wall. I had to work incredibly fast as it dries quickly.  Working in small sections, I'd wipe it on with my right hand, and rub it back off with a dry towel in my left hand. I felt like I was working on a movie set…doing some kind of fun faux finish. This is the STUFF, people. The unplanned, trial & error stuff that makes me OH SO HAPPY.
Once I completed the "chalk wash" portion, I was a bit concerned that it looked too uneven. At that point I went back over it with a large paintbrush, dipped in the chalk paint mixture. I did long vertical strokes, and used the dry towel to blend it. This made it appear a bit more consistent. BUT. I discovered it didn't really matter anyway, because the next layer was about to make it allllllll come together! ♥ Any guesses?
Yep, you know me so well! A stencil! This pretty rose stencil was admittedly an unexpected choice for ME, but I LOVE it. (Find the stencil here.) It adds a touch of femininity to this hard-working room, and a vintage look that gives me all the warm fuzzies! I used acrylic craft paint (Folk Art "Vintage White") and my biggest tip for stenciling is to use HARDLY ANY paint. A fairly dry brush gives a softer, more faded, "worn-in" look and less of a "HEY I JUST LEARNED TO STENCIL" look. 😉
Can you feel my happiness in the pic above? Gahhhh….creating is such a mood-booster!
When we purchased our 1890 farmhouse, it was covered in at least 3 layers of wallpaper in EVERY room. You can probably guess why I'm a little resistant to using wallpaper here. This is why I'm so IN LOVE with stenciling! The look of wallpaper, without the commitment! If we get tired of it? A quick coat of paint will erase the whole thing.
Since there were no expansive areas to stencil in this particular room, I opted to work in vertical strips, as if I was wallpapering. The dogs patiently waited for me as I tapped my stencil brush lightly against the wall to complete the look…my anticipation growing with each completed "block!"
Once complete, I stood back to take a look. I hardly recognized this little spot!
Here are my thoughts in this moment:
I love it. (Can you feel the "but" coming?)…However, the way I choose to decorate it will be important. I have an appreciation for vintage, but I also love a modern twist to keep it more "us." That's what I've come to appreciate about the beautiful displays in Anthropologie…they always make it relevant with an artistic modern twist. Choosing a very clean-lined modern clock was a good way to keep this corner from being too sugary sweet. Does that make sense? Oh, I'll just show you!
But first, remember the before:
And here's the AFTER! ♥
Another "before" view: (below)
And after!
I'm over the MOON excited! Even the dogs seem happier! 🙂 The bright + fresh pillows, the hook rack for storage, a modern looking clock, a thrifted basket…it all came together to make my heart so happy. Taking a little time to brighten up a dull corner (that nobody ever sees…except us!) was such a JOY this week! What little spot in your home could use some love? I'd challenge you to try something a bit outside your norm. It might just be the "sunshine" you're craving.♥