A few weeks ago I decided my front porch could use some serious LOVE. Ok, not SERIOUS love, but SOME love. A little attention. It looked so forgotten. Sad. Neglected. Ummm hello?? Is that the impression I want to give my guests? Or neighbors? I. Don't. Think. So. That night, I cleared my desk, made myself the design client, and got down to business with a little fun on-line shopping.
Here she is. Ohhhhh my porch is so happy today.
Oregon is enjoying summer-like weather the last couple days, so it was perfect timing to revamp the porch. I started by clearing everything from the area, including the cob webs and an inch of dust from the adirondack chairs. 😉 (UGH! Black paint shows EV.RY.THING) Next, I put down this cute new indoor/outdoor area rug to add some fun pattern (find it here). My porch isn't huge, so finding the right size was key. This is a 4×6. No, the chairs don't fit all the way on top of the rug. THAT IS OK. Let's be renegades! Wooohoooo! I suddenly feel like skipping around the neighborhood announcing that my rug is daringly smaller than my chairs. Hey, to each their own, but I'm in love. WHOLE-hearted, ABSOLUTE, indoor-outdoor rug LOVE.
Ok, let's talk about this TABLE. This TABLE!!!! AHHHH!!!! I'm yelling right now, this table is so cute. I was walking through Real Deals in Salem, Oregon the other day, and then. THIS. All I could think was, "Must. Have. Table." It will probably eventually make its way inside the house, but for spring/summer? PERFECT addition to the porch. AHHHH! STILL YELLING! 😉 (Oh, and bonus: the top rotates to raise or lower the table. CAN YOU EVEN? I lowered it all the way for the porch, but imagine the possibilities for INSIDE the house!)
Next up: pillows. Our porch gets blasted with late afternoon sunshine (fade much?), and hit by plenty of wind/rain/stormy weather (I'm sure my neighbors down the street love it when my pillow collection litters their front yards after a big storm), so indoor-outdoor pillows are a must. These are all from society6.com. Here's a closer look: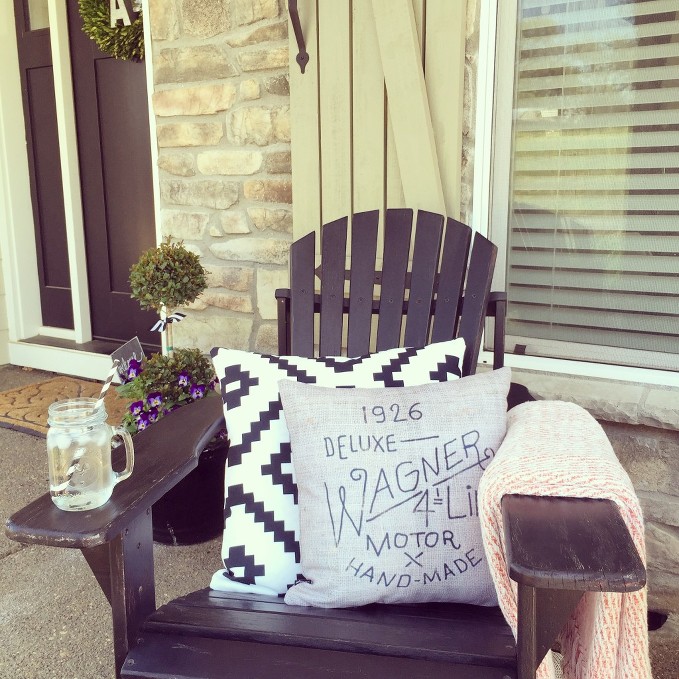 I love the graphic appeal of these black & white beauties. Totally eye-catching (find them here). And the front pillow (find it here)? SO CUTE! Can you believe these are indoor-outdoor? (Sorry, I'm yelling again.) A cozy coral throw blanket from Marshall's is fun for those evenings when it's cool outside, but you just need some fresh air. 🙂
The other chair holds the same black & white pillow and a bright coral herringbone pillow (find it here). So summer-y and fresh! A little tip: if you're doing multiple pillows on a chair, be sure the "back" pillow is larger than the "front" pillow (we want to see BOTH pillows!) In case you were wondering about the adirondack chairs, we bought them from an unfinished furniture store years ago. I originally painted them red (with a PAINT brush…no. Don't do that. Unless you have an extra 234 hours to kill.), and then a few summers ago, I spray-painted them black (yes, thumbs up to the spray paint. So easy and the satin finish holds up to cleaning).
I picked up a few finishing touches at a darling shop in Lake Oswego, Oregon called "Piper Louie"…including this cute rustic lantern and "Flowers" sign, made by the sweet and talented Kristy at The Painted Nest (you can find her on Instagram @thepaintednest). The chippy white crate on the table is a favorite, a gift from my friend Debbie. The galvanized flower pot came from Marshall's, and I stenciled a "4" on it (for the 4 members of our family) with acrylic craft paint.
Sooooo? Could your porch use a little LOVE? On the next sunny day, maybe you're ready to shake the "winter" off of your porch and welcome the next season. There might even be some farmhouse goodness hidden in your garage, just waiting to be repurposed as porch decor!
Thanks for letting us share our little front porch tour with you! Here's to sunshine, summer-coming-soon, and a pretty welcome for friends and family. Happy porch decorating!