Oh my goodness, I am so excited about this fun makeover project! I've been looking for a great multi-functional piece for the garage. You know, something to hold shoes, coats, my bag full of odds and ends that goes with me on every install, my little tool box…basically a (super cute) garage caddy! *Newsflash* This does not exist in the store. The more I thought about it, the more I wanted it. I mean, who DOESN'T want to see something clean, fresh, darling, and organized when they open their garage at the end of a busy day? Yep, I was all in.
The search was on. Have you heard of Close5? It's an awesome app that you can use to search for tons of items in your local area. I downloaded the app, set the search area (I wanted to stay within 25 miles of my home), and started shopping. I stumbled on this little diamond in the rough…an oak entertainment center. I snagged it for $40 and the owners even delivered it for me. Here's what it looked like when I got it: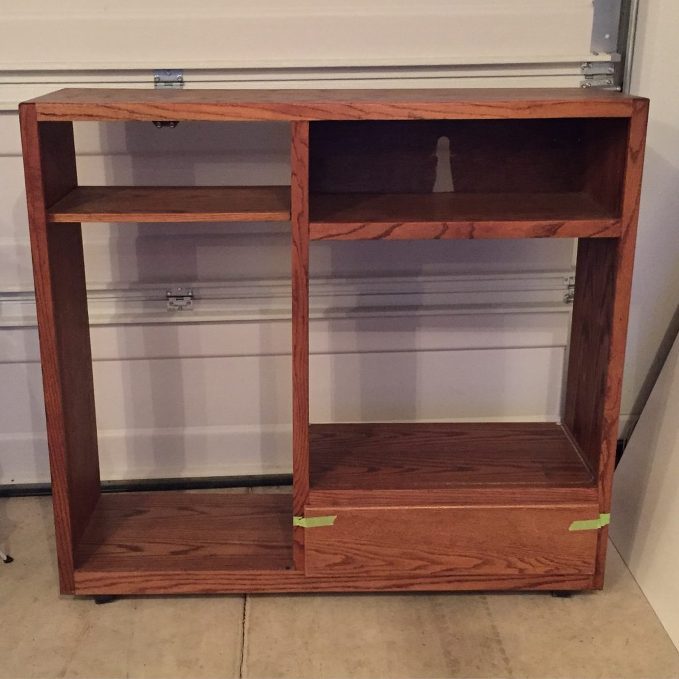 Mmmm Hmmm. Not the cutest. But it had potential. LOADS of it.
We added some larger casters to the bottom, to raise it up a little bit and give it an industrial look. I busted out the remaining backing on the top section (I felt like Chip Gaines on demo day), and removed the bottom drawer and the shelf on the left side (to be used later). I gave it a quick sanding with medium grit sand paper, and then hunted down some old paint in the garage. Here's what it looked like when it was all ready to paint: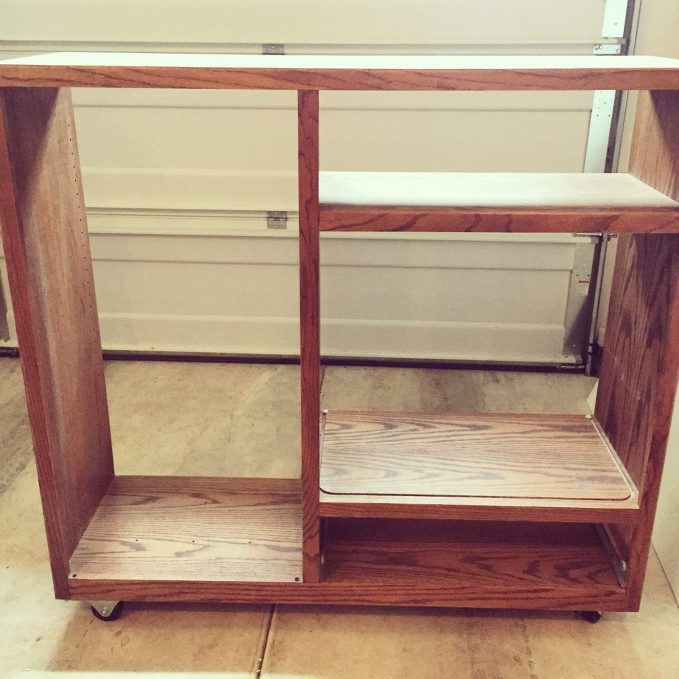 We had a quart of interior satin paint on hand (white) that I thought would work just fine. Using a foam roller, I gave it 3 coats of fresh white paint, and distressed the edges once dry, using medium grit sand paper. My hubby added 4 coat hooks to the inside, and put a nice chunky industrial pull on the drawer. And then, my favorite part. The part that really added some personality. Remember that swiss cross stencil I recently used in my upstairs hall? Well, I've been itching to incorporate it somewhere else, and bingo! This was just the ticket. We got a big piece of thin pressboard at Home Depot, and had it cut to size in the store. Using the side that was already white, I quickly stenciled dark gray swiss crosses using acrylic craft paint (from my VERY messy craft closet…that needs some attention soon). We let it dry for about 20 minutes, and nailed it to the back of our new "garage caddy." Uhhh, I'm not gonna lie. I stood back and yelled like I always do, "Ahhh! That is so CUTE!"
We rolled our caddy into its new home, and well, one thing led to another. We sorted through 20 pairs of shoes that no longer fit anyone in this family, sifted through a few piles of junk, and then, since I was in a total stenciling mood, I made a quick sign to go above the new caddy on an old piece of barn wood (the sign says "Oh Hello" but when I had only painted "Oh Hel" my hubby walked by, and said "Janna! What are you PAINTING??" ha ha).
Well, what do you think? Could you use something similar in your garage? Good news, I'm pretty sure there's a healthy population of 80's oak media cabinets out there! 😉 Let's repurpose them, one at a time. And hey, be sure to check out Close5! You never know what kinds of treasures you'll find! Download the app here: