Summer, I heart you. But if you MUST go, it's time for me to move on and get ready for my other favorite season, FALL!
Yep, while I'm not quite ready to say goodbye to summer, I like to be prepared for the next season. I'm already dreaming about what I envision for my fall front porch, and don't even get me started on the inside of the house. But that can wait. Let's talk about you!
Friends. I don't wanna scare you, but fall marks the beginning of gathering season. It's that time of year when you'll host friends and family in your home for all sorts of occasions…holidays, family gatherings, dinner parties, movie night, birthdays…and as the weather turns cooler, we can't keep everyone on the back patio. 😉 So let's DO THIS! Let's get prepared to make your home cozy, welcoming, and beautifully ready for FALL! I've rounded up 10 budget-friendly items that are staples during this season (and beyond!). And the best part? You can shop while you're drinking your coffee and wearing your stretchy pants. 🙂 I know. You love me already.
All set? Let's dive in! (some affiliate links are included)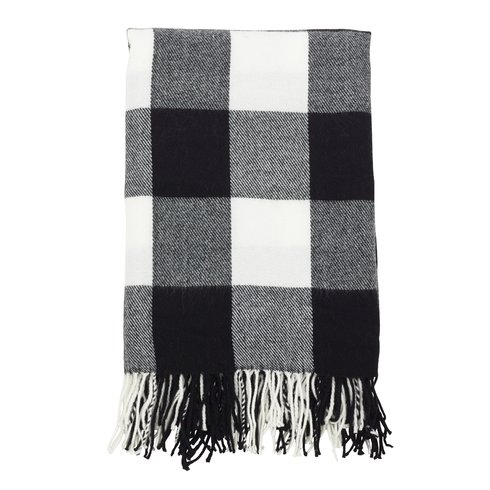 1. Gotta start with the cozy-factor. The Farmersville Plaid Check Design Tassel Trim Throw screams fall to me, but since it's black & white, it would be perfect for Christmas too…or let's face it, anytime!
If you're more of a color person, this EXTREMELY budget-friendly Southington 100% Cotton Throw Blanket would be so pretty draped on your sofa!
Ok, just one more throw…in case you need a super soft, cozy blanket, perfect for movie night! I love the clean & simple pattern on the Bertte Ultra Velvet Plush Super Soft Throw Blanket. Get. In. My cart.
2. This Green Wreath comes in a few different sizes, and how pretty would it be hanging on a barn door, a chalkboard, or a mirror? So pretty for autumn!
3. This Recycled Wood Wall-Mount Coat Rack. Please. Just so good. Ok, you caught me…I actually HAVE this coat rack in my own home, and get so many compliments on it! It's great year-round, but how perfect is it for fall??
4. See? I knew what you were thinking. "What am I going to hang on my coat rack?" 😉 This Paris French Market Basket would look great, and I'm not gonna lie. I'm ordering one right now.
5. Speaking of baskets. This 3 Piece Multi-Purpose Rectangular Iron Wired Basket Set is an AMAZING value! I would stuff at least one of these full of cute little white pumpkins, and put it on an entry table, coffee table, or bench! And hey, you could always use one of them to make up a sweet little gift for a friend or as a hostess gift!
Ok, just one more basket, because baskets are life. 😉 The Seagrass Basket with Handles comes in multiple sizes, and I don't mean to be over-dramatic, but I want to marry it. So, ya. Oh man. Your house is gonna be lookin' G-O-O-D.
6. Excuse me while I covet this sign. Absolutely ADORE the simplicity of it…"hello fall." My sister, Julie, makes the cutest signs and ships all over the US! You can find her on Instagram @signsofserendipity or on Facebook (Signs of Serendipity).
7. I'm a sucker for a custom pillow, and Erin at Porter Lane Home makes the most beautiful, high-quality pillow covers! You can find this beauty here.
I have to include a burlap pillow too, because, well this Grainsack Burlap Throw Pillow is just the cutest!
8. One of the struggles of fall decorating is keeping everything from looking too crunchy and dry. Am I right? This little Echeveria Succulent Plant in Pot is your secret weapon to remedy that exact problem! I can just see it nestled in with some pumpkins on your fireplace hearth or entry table. And bonus! This little guy will look great in your home year-round.


9. Got a plan for your front porch? The
Eres Black Indoor/Outdoor Area Rug
would be the perfect backdrop to whatever you decide to do! Pop some pumpkins & corn stalks on the porch, and the graphic punch from this rug will really set it off!
Enjoy the final days of summer, and by the time you pile in the car to get your pumpkins this year, you'll be well prepared to decorate! Way to go!